If you have knee pain and get imaging done that shows you have a torn meniscus, you might be quick to think, or be told, that you need to have surgery to fix your knee. One procedure that you might find by searching doctor google could be to have a partial meniscectomy, which is basically just the removal of the damaged part of the meniscus while leaving as much of the meniscus untouched as possible. This procedure does sound logically like it would be very helpful, but is it the only way?
For this article I am going to be discussing the outcomes (pain and function) of having a partial meniscectomy versus physical/exercise therapy. I will also briefly talk about the difference between the treatment options for a traumatic meniscus tear (happens suddenly) versus a degenerative tear (happens slowly over time), since they are not the same thing and may have different outcomes.
First, if we take a look at how many people have meniscus tears on imaging while having NO symptoms, it is likely to be about 10% of the population1,2 with some estimates going as high as 30%3. If we look at the prevalence of tears in certain populations, it is anywhere from 60-90% of people with osteoarthritis4, 19% of the general population over 402, 25% of the population over 50 (this increases every decade)5, and around 4% of athletes6. Some of those numbers are getting pretty large for an asymptomatic population, which shows that non-traumatic meniscus tears may not be that big of a deal.
Before we go further, I am going to take a moment to talk about traumatic meniscus tears. The 2019 ESSKA guideline7 recommends that surgery be had for unstable (basically causing your knee to lock or a lot of mechanical symptoms) tears. They also showed that there is no benefit to healing with the use of needling or platelet-rich-plasma (PRP) injections. Now that will be all that I say, since surgery is outside of my scope of practice and the different surgical procedures would be better discussed by orthopaedic surgeons.
Continuing on with non-traumatic tears, now that we have talked about the prevalence, what are your options? Obviously partial meniscectomy is an option, but is it better than physical/exercise therapy? Well if we look at those who got the surgery versus those who didn't, we see that everyone still improves1,5,8-12! Did one group improve more than the other? Looking at partial meniscectomy versus physical therapy, there is no significant difference between the two1,5,8-13. There was a period where partial meniscectomy was better than physical therapy (6-12 months), BUT that difference was below the cutoff for clinical significance1,8. Interestingly enough, there have also been investigations exploring if partial meniscectomy is better than either placebo surgery or sham surgery. Placebo surgery is basically when they go in to your knee and confirm that there is a tear, but do nothing to the meniscus, and sham surgery is more or less when they put you under and open your skin the same way they would for a surgery, but they do not actually go into your knee1. These studies found that there was still NO DIFFERENCE between the groups1,5,8,13,14. Due to all of the evidence pointing to similar outcomes whether or not you get surgery, surgery is not considered a first-line treatment option for meniscus injury5,15. In order to better understand the decision making process, I have attached the treatment algorithm from the British Association for Surgery of the Knee (BASK) here.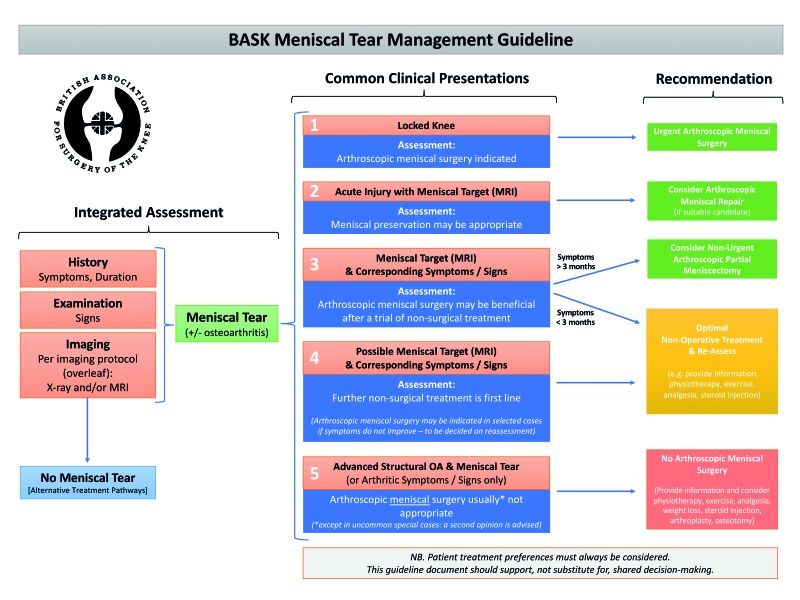 To put a positive spin on this, it is great news since it really opens up the options for you, and you can choose the treatment that best fits your current situation. Basically no matter if you choose to do physical/exercise therapy, get surgery, or do (basically) nothing about it, you will probably be ok in the long run.
Ok cool, but what if you chose to get after it and do some exercise therapy but you don't seem to be getting results. Well in that case, if you aren't getting results after about 3 months, then it is recommended to consider surgery5,15. Luckily for you, if the non-surgical route has not been successful, it is likely that getting surgery will be successful1,5,12.
Here's the part of the article where we talk about the bad stuff, or lack thereof. Since I absolutely love talking about aging adults and osteoarthritis, I can't leave them out of any article. The guidelines DO NOT recommend partial meniscectomy for those presenting with severe osteoarthritis5,15, and the procedure may increase your likelihood of developing osteoarthritis1,5,16. Surgery always has its inherent risks of complications, but for partial meniscectomy they are nice and low at 0.27-2.8%5 and if we get specific and talk about infection of the bone, that is around 0.009-1.1%17. Those are some nice and low numbers, indicating that the procedure is quite safe to have done and you should not be too concerned about it.
You may now be wondering 'what should I do for my exercise'. Well, the evidence hasn't shown any specifics for rehab, but it is very common to have decreased knee extension strength after a meniscus injury and surgery, which can persist after recovery1,18,19. With that knowledge, whether you elect to do physical/exercise therapy or get surgery, your rehab should have a large focus on increasing knee extension strength, along with total leg strengthening.
To sum everything up, non-surgical treatment is the first line option if you aren't having knee locking or excessive symptoms, and if you aren't having success after 3 months then surgery should be considered5,15. Whether or not you choose to get surgery, the outcomes are favourable with all options producing similar outcomes in terms of function and pain. Finally, knee extension strength is a common deficit with meniscus injury and surgery, so working to get that strength up is always a good option for your rehab!
As always, it's time to go out there and move!
Smoak JB, Matthews JR, Vinod AV, Kluczynski MA, Bisson LJ. An Up-to-Date Review of the Meniscus Literature: A Systematic Summary of Systematic Reviews and Meta-analyses. Orthop J Sports Med. 2020 Sep 9;8(9):2325967120950306. doi: 10.1177/2325967120950306. PMID: 32953923; PMCID: PMC7485005.
Culvenor AG, Øiestad BE, Hart HF, Stefanik JJ, Guermazi A, Crossley KM. Prevalence of knee osteoarthritis features on magnetic resonance imaging in asymptomatic uninjured adults: a systematic review and meta-analysis. Br J Sports Med. 2019 Oct;53(20):1268-1278. doi: 10.1136/bjsports-2018-099257. Epub 2018 Jun 9. PMID: 29886437; PMCID: PMC6837253.
Horga LM, Hirschmann AC, Henckel J, Fotiadou A, Di Laura A, Torlasco C, D'Silva A, Sharma S, Moon JC, Hart AJ. Prevalence of abnormal findings in 230 knees of asymptomatic adults using 3.0 T MRI. Skeletal Radiol. 2020 Jul;49(7):1099-1107. doi: 10.1007/s00256-020-03394-z. Epub 2020 Feb 14. PMID: 32060622; PMCID: PMC7237395.
Ahmed I, Radhakrishnan A, Khatri C, Staniszewska S, Hutchinson C, Parsons N, Price A, Metcalfe A. Meniscal tears are more common than previously identified, however, less than a quarter of people with a tear undergo arthroscopy. Knee Surg Sports Traumatol Arthrosc. 2021 Nov;29(11):3892-3898. doi: 10.1007/s00167-021-06458-2. Epub 2021 Feb 1. PMID: 33521890; PMCID: PMC8514344.
Beaufils P, Becker R, Kopf S, Englund M, Verdonk R, Ollivier M, Seil R. Surgical management of degenerative meniscus lesions: the 2016 ESSKA meniscus consensus. Knee Surg Sports Traumatol Arthrosc. 2017 Feb;25(2):335-346. doi: 10.1007/s00167-016-4407-4. Epub 2017 Feb 16. PMID: 28210788; PMCID: PMC5331096.
Beals CT, Magnussen RA, Graham WC, Flanigan DC. The Prevalence of Meniscal Pathology in Asymptomatic Athletes. Sports Med. 2016 Oct;46(10):1517-24. doi: 10.1007/s40279-016-0540-y. PMID: 27075327
Kopf S, Beaufils P, Hirschmann MT, Rotigliano N, Ollivier M, Pereira H, Verdonk R, Darabos N, Ntagiopoulos P, Dejour D, Seil R, Becker R. Management of traumatic meniscus tears: the 2019 ESSKA meniscus consensus. Knee Surg Sports Traumatol Arthrosc. 2020 Apr;28(4):1177-1194. doi: 10.1007/s00167-020-05847-3. Epub 2020 Feb 13. PMID: 32052121; PMCID: PMC7148286.
Abram SGF, Hopewell S, Monk AP, Bayliss LE, Beard DJ, Price AJ. Arthroscopic partial meniscectomy for meniscal tears of the knee: a systematic review and meta-analysis. Br J Sports Med. 2020 Jun;54(11):652-663. doi: 10.1136/bjsports-2018-100223. Epub 2019 Feb 22. PMID: 30796103.
Kirkley A, Birmingham TB, Litchfield RB, Giffin JR, Willits KR, Wong CJ, Feagan BG, Donner A, Griffin SH, D'Ascanio LM, Pope JE, Fowler PJ. A randomized trial of arthroscopic surgery for osteoarthritis of the knee. N Engl J Med. 2008 Sep 11;359(11):1097-107. doi: 10.1056/NEJMoa0708333. Erratum in: N Engl J Med. 2009 Nov 12;361(20):2004. PMID: 18784099.
Migliorini F, Oliva F, Eschweiler J, Cuozzo F, Hildebrand F, Maffulli N. No evidence in support of arthroscopic partial meniscectomy in adults with degenerative and nonobstructive meniscal symptoms: a level I evidence-based systematic review. Knee Surg Sports Traumatol Arthrosc. 2022 Jul 1. doi: 10.1007/s00167-022-07040-0. Epub ahead of print. PMID: 35776158.
Lee DY, Park YJ, Kim HJ, Nam DC, Park JS, Song SY, Kang DG. Arthroscopic meniscal surgery versus conservative management in patients aged 40 years and older: a meta-analysis. Arch Orthop Trauma Surg. 2018 Dec;138(12):1731-1739. doi: 10.1007/s00402-018-2991-0. Epub 2018 Jul 4. PMID: 29974216.
Petersen W, Achtnich A, Lattermann C, Kopf S. The Treatment of Non-Traumatic Meniscus Lesions. Dtsch Arztebl Int. 2015 Oct 16;112(42):705-13. doi: 10.3238/arztebl.2015.0705. PMID: 26554420; PMCID: PMC4644934.
Evidence Development and Standards Branch, Health Quality Ontario. Arthroscopic Debridement of the Knee: An Evidence Update. Ont Health Technol Assess Ser. 2014 Nov 1;14(13):1-43. PMID: 26330895; PMCID: PMC4552217.
Sihvonen R, Paavola M, Malmivaara A, Itälä A, Joukainen A, Kalske J, Nurmi H, Kumm J, Sillanpää N, Kiekara T, Turkiewicz A, Toivonen P, Englund M, Taimela S, Järvinen TLN; FIDELITY (Finnish Degenerative Meniscus Lesion Study) Investigators. Arthroscopic partial meniscectomy for a degenerative meniscus tear: a 5 year follow-up of the placebo-surgery controlled FIDELITY (Finnish Degenerative Meniscus Lesion Study) trial. Br J Sports Med. 2020 Nov;54(22):1332-1339. doi: 10.1136/bjsports-2020-102813. Epub 2020 Aug 27. PMID: 32855201; PMCID: PMC7606577.
Abram SGF, Beard DJ, Price AJ; BASK Meniscal Working Group. Arthroscopic meniscal surgery: a national society treatment guideline and consensus statement. Bone Joint J. 2019 Jun;101-B(6):652-659. doi: 10.1302/0301-620X.101B6.BJJ-2019-0126.R1. c; PMCID: PMC6568024.
Magnussen RA, Mansour AA, Carey JL, Spindler KP. Meniscus status at anterior cruciate ligament reconstruction associated with radiographic signs of osteoarthritis at 5- to 10-year follow-up: a systematic review. J Knee Surg. 2009 Oct;22(4):347-57. doi: 10.1055/s-0030-1247773. PMID: 19902731; PMCID: PMC3785109.
Balato G, Di Donato SL, Ascione T, D'Addona A, Smeraglia F, Di Vico G, Rosa D. Knee Septic Arthritis after Arthroscopy: Incidence, Risk Factors, Functional Outcome, and Infection Eradication Rate. Joints. 2017 Jul 28;5(2):107-113. doi: 10.1055/s-0037-1603901. PMID: 29114639; PMCID: PMC5672874.
Hall M, Juhl CB, Lund H, Thorlund JB. Knee Extensor Muscle Strength in Middle-Aged and Older Individuals Undergoing Arthroscopic Partial Meniscectomy: A Systematic Review and Meta-Analysis. Arthritis Care Res (Hoboken). 2015 Sep;67(9):1289-1296. doi: 10.1002/acr.22581. PMID: 25776139.
Thorlund JB, Østengaard L, Cardy N, Wilson F, Jørgensen C, Juhl CB. Trajectory of self-reported pain and function and knee extensor muscle strength in young patients undergoing arthroscopic surgery for meniscal tears: A systematic review and meta-analysis. J Sci Med Sport. 2017 Aug;20(8):712-717. doi: 10.1016/j.jsams.2017.02.004. Epub 2017 Feb 21. PMID: 28233675.